On 12 February 2020, the European Parliament (EP) voted to ratify the European Union - Vietnam Free Trade Agreement (EVFTA).
EVFTA was officially signed between the European Union (EU) and Vietnam on June 30, 2019. After nearly 10 years since negotiation was started in October 2010, EVFTA are proceeding to its final internal procedures including approval by European Council and National Assembly of Vietnam to officially take its effect.
EVFTA will open up many benefits for enterprises in Vietnam when 99% of tariff lines on Vietnam's export to the EU will be eliminated in a 7-year roadmap since the date of effect. Especially for textiles and garment (T&G), all export tariff will be gradually liberated within 7 years, in details, 42.5% of tariff lines will be eliminated immediately, the next 34.8% will be removed in 5 years and the final 22.7% will be eliminated after 7 years.
Moreover, compared with the Comprehensive and Progressive Agreement for Trans-Pacific Partnership (CPTPP), EVFTA apply more flexible rules of origin for T&G. While CPTPP applies the "yarn forward" rule of origin, meaning that all stages of Yarn - Fabric - Cut - Sewing must be performed in Vietnam, EVFTA applies "fabric forward" rule of origin and allows imports from countries that have signed FTAs with both the EU and Vietnam such as Korea, Japan or a number of ASEAN countries.
The EVFTA approval by the EP can be considered as one of the final steps to wide open the door for Vietnamese T&G products to the market of 28 countries with total population of more than 500 million people. Not only will EVFTA bring advantages for Vietnamese T&G enterprises but it will also become a catalyst for Vietnam to evolve as an attractive investment destination for FDI enterprises wishing to take advantage of EVFTA's incentives applicable to "made in Vietnam" textile and garment products.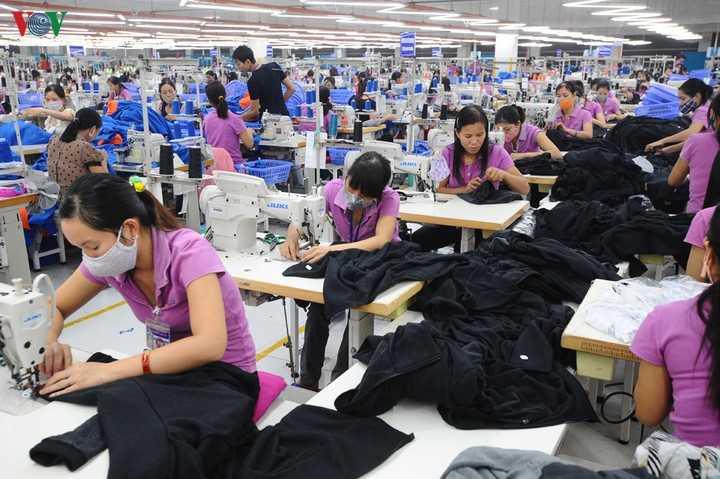 Textile and garment industry are forecasted as the most benefited sector from EVFTA agreement (Source: VOV)
Ministry of Planning and Investment (MPI) assess that EVFTA will have positive impacts on Vietnam's economy. Accordingly, export turnover of Vietnam to the EU is forecasted to increase by approximately 20%, 42.7% and 44.37% in 2020, 2025 and 2030 respectively in comparison with non-EVFTA scenario; in which, rapid growth are expected in several sectors such as textile (67%), garment (81%), leather and footwear (99%), waterway transportation (100%), air transportation (141%).
In the reverse, MPI predicts that import turnover from EU will raise by about 15.28% (2020), 33.06% (2025) and 36.7% (2030) compared with non-EVFTA scenario.
With unpredictable movements in global economy due to the impacts of US-China trade tensions and Covid-19 outbreak, the ratification of EVFTA and EVIPA by EP is an important boost for Vietnam's goods in general and "made in Vietnam" T&G products to improve their competitive advantages, to expand their export turnover as well as to diversify their market and supply chain.
In evaluation of investment destination, besides the natural advantages being located in the center of ASEAN and Asia-Pacific with a long coastline – ideally favorable for seaport development, traditional advantage of abundant and cost-competitive human resources, Vietnam now additionally have an economic-political advantage as the first developing country in Asia-Pacific having free trade relation with EU.
EVFTA is expected to extend many prospects in domestic and foreign investment attraction in Nam Dinh Province - the "cradle" of Vietnam's T&G industry and to assist Nam Dinh to become a textile and garment center of the Northern Region of Vietnam in accordance with the Government planning orientation. In recent years, while T&G industry appear less preferred appetite in comparison to electronic and automobile industries in booming industrial real estate regions, Nam Dinh provincial leaders have always been determined and consistent with the strategy to develop industrial parks oriented for T&G complete supply chain such as Bao Minh Industrial Park and Rang Dong Textile Industrial Park (Aurora IP). As a result, Nam Dinh has always been regarded as one of the first choices of domestic and foreign investors in T&G sector.
In textile and garment investment attraction, Aurora IP has distinguished comparative advantage to outperform other industrial parks in Nam Dinh Province in particular and the Northern Region in general, thanks to its orientation from the project initiation stage and its design optimally suitable for T&G industry, especially fabric production. Aurora IP is one of very few industrial zones satisfying legal and infrastructure requirements for fabric production facilities, especially those with fabric dyeing process. Beside the surface water supply system with total capacity of 170,000 m3/day-night, Aurora IP has also invested and developed wastewater treatment system with a total capacity of 110,000 m3/day-night in parallel with intensive infrastructure completion for transportation and connection of the IP to satisfy most stringent requirements of foreign investors in the IP, especially those of weaving - knitting and dyeing plants with extensively high demand for water supply and wastewater treatment. Thanks to its serious commitments in IP investment and construction, Aurora IP has been trusted and selected by a complex of large fabric manufacturers with long-standing traditions in Japan and Hong Kong as an investment location for a textile dyeing factory on an area of 40 hectares. Besides, Aurora IP is also a destination for investors with advanced weaving - knitting and dyeing technologies. The trust and selection of these market leaders is a recognition of Aurora IP's efforts in preparation and readiness for the wave of investment in T&G industry which is expecting strong development in the near future following the EVFTA's entry into force.
Aurora IP