Covid-19: Alert for global production chains
It was not until Covid-19 outbreak have strategists, investors, and manufacturers realized the dependence of global production on the Factory of the World. However, China with its abundant human resources, proactive raw materials supply and excellent responsiveness to any time and volume pressure makes all investors keep delaying their production diversification and shifting their supply chains out of China. The Covid-19 outbreak, a force majeure for all manufacturers, becomes a warning of global production chain dependence on China.
For textile and garment industry, the outbreak has led to standstill production in China causing disruptions in global supply chains, all activities from supply of raw materials, production to transportation are affected by travel bans in China and between China and other countries. Meanwhile, various raw material factories in China continue their standstill production due to the impact of a long holiday in China and travel restrictions banning the workers returning to the factory. Fashion brands such as Uniqlo, Gap or Nike are all facing the threat of a shortage of inventory and products to market. For example, Uniqlo has had to delay the launch of some new product lines such as Uniqlo U jackets for the Spring-Summer collection.
Covid-19 and Achilles heel of Vietnam's textile and garment
Vietnam's textile and garment industry certainly cannot be outside this supply chain crisis, as 60% of the materials used in Vietnam's garment industry was imported from China. May 10, a supplier for GAP and Tommy Hilfiger, imports 50% on average of its raw materials from China and is having troubles with delivering the orders in March and April 2020. Saigon Garment 3 JSC, a manufacturer for Uniqlo and Nike, has enough raw materials to maintain production until March. These difficulties are direct outcomes of the Covid-19 outbreak. In order to prevent the disease from spreading out, Vietnam have to close some border gates to China, limit trade between China and Vietnam to a specific volume. Difficulties in trade and transportation together with the commodity scarcity due to the moderate production in China caused supply disruption - a conundrum for Vietnam's textile and garment manufacturers. Several textile and garment enterprises had to reduce working hours to be able to maintain working time for the workers. Especially for small enterprises, raw materials can only serve production till the end of February and if the current situation continues to occur, a lot of enterprises will probably shut at the beginning of March.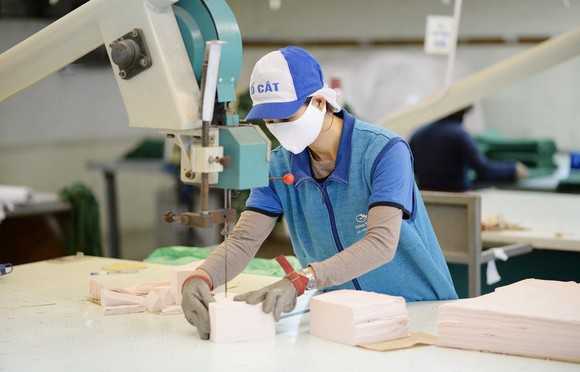 Difficulties in trade and the commodity scarcity due to the moderate production in China cause supply disruption - a conundrum for Vietnamese textile and apparel manufacturers. (Source: baodautu.vn)
According to Mr.Tran Thanh Hai - Deputy Director General of Import and Export Department, the impact of Covid-19 on Vietnam's textile and garment industry cannot be stopped, even when the disease is over. Vietnam Textile and Apparel Association (VITAS) said that some of textile and garment or leather and footwear enterprises are considering to import raw materials from other countries such as Korea, India, Bangladesh, Brazil... to offset the shortage of raw materials for production but the above plans are just short-term solutions.
Independence of raw materials: If not now, then when?
While the textile and garment industry contributes more than 12% to Vietnam's total exports and being oriented to be one of the key sectors of the national economy, we are ignoring the important link of this sector that is fabric production. This unsustainable development also prevents Vietnam's garments from taking advantages of trade agreements such as EVFTA or CPTPP while these agreements all include the rules of origin of textile and garment that is fabric forward or yarn forward. It can be said that we have never seen a demand and pressure of fabric production as now.
Meanwhile, the Government has issued and applied investment incentive policies to encourage the investors in the textile and garment sector, especially in the textile and garment supporting industries. However, due to environmental and the fabric production concerns, notably in dyeing, localities are not willing to welcome the investors in this segment. Besides, in order to approve the investments in fabric making in general and weaving/knitting and dyeing in particular, the industrial park investors need to actively and well prepare the infrastructure to ensure water supply and high-capacity wastewater treatment. In fact, not many industrial zones are able and ready to welcome dyeing/knitting and weaving sector except for Bao Minh Industrial Park, Texhong Hai Ha Industrial Park, Rang Dong Textile and Garment Industrial Park (Aurora IP). In particular, Aurora IP is oriented right at the formation of the project to contribute to the sustainable supply chain development of Vietnam's textile and garment industry, with the target that 1 billion meters of fabric will be produced each year in the first phase of the project. This is also one of the projects with the largest water supply and wastewater treatment capacity in the Northern Region. By an initially oriented plan along with the investment in appropriate infrastructure construction to prioritize the development of textile industry, especially fabric production, Aurora IP is proud to help loosen the knot of investment location for the weaving/knitting and dyeing sector in particular and for the whole textile industry in general in Vietnam today.
AURORA IP synthesizes from
Nikkei Asian Review, VITAS, VNExpress,
Industry and Trade Newspaper and nhipcaudautu.vn