With comprehensive infrastructure, convenient transportation and favourable location, Aurora Textile Industrial Park in the northern province of Nam Dinh has become a reliable destination for foreign investors in Vietnam.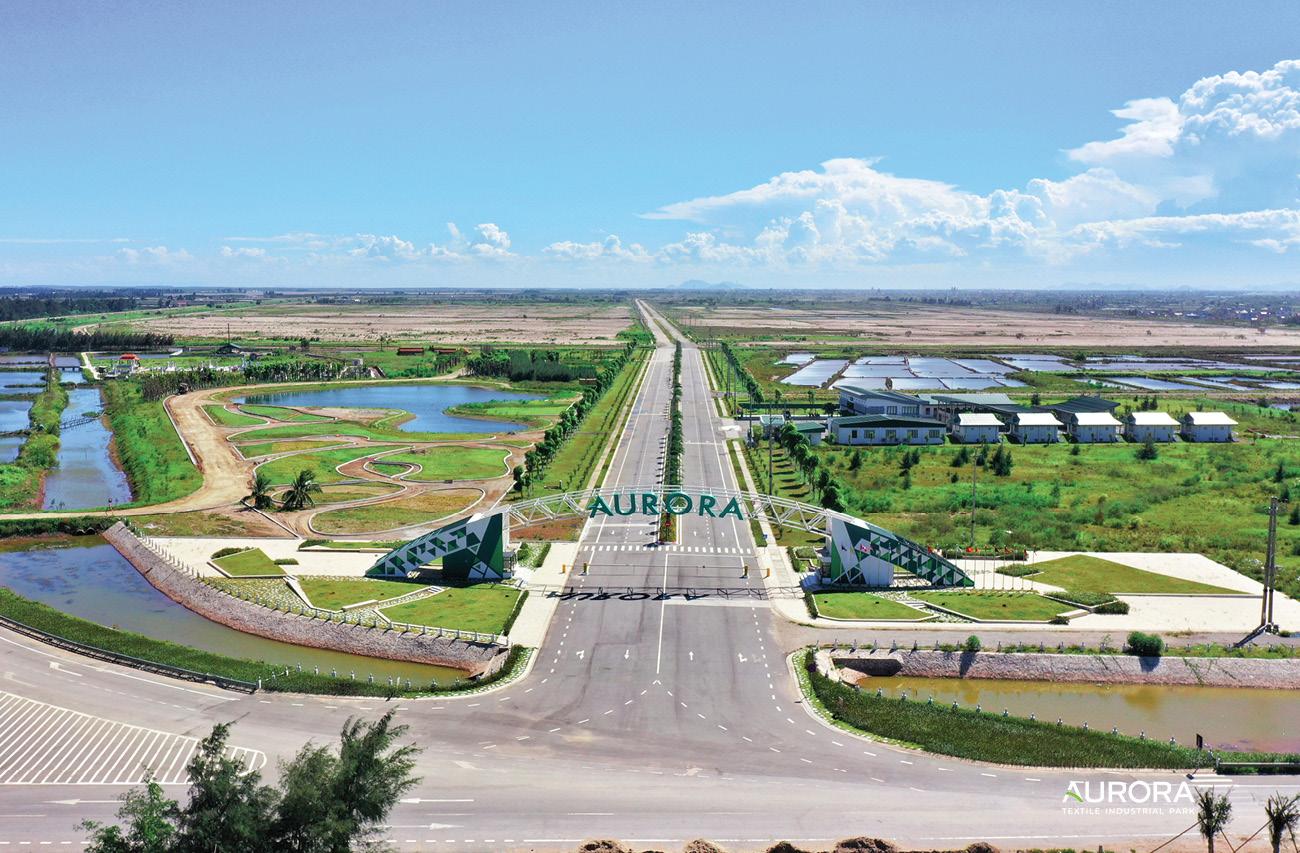 The Aurora Textile Industrial Park - PHOTO: COURTESY OF CAT TUONG GROUP.
The successful containment of the Covid-19 pandemic together with the increasing shift of foreign investment to Vietnam is offering the country many opportunities to boost its economic development and attract more foreign investors, especially those giving the priority to sustainable development.
According to recent studies, consumers are paying particular attention to more sustainable practices of fashion products and the fashion industry as a whole. Therefore, producers and retailers must be highly responsive to market changes and move towards sustainable development.
Aurora Textile Industrial Park has offered favourable conditions for businesses to achieve their sustainable goals.
The industrial park is located in Ninh Co Economic Zone, which covers 14,000 hectares with comprehensive infrastructure such as airport, seaport and power supply facilities in Rang Dong Town, Nghia Hung District, Nam Dinh Province.
The industrial park is conveniently connected to Hai Thinh Port, Haiphong Port and Cai Lan Deep Sea Port. It is 50 km from downtown Nam Dinh City, 130 km from downtown Hanoi City, 40 km from downtown Ninh Binh City, 75 km from downtown Thai Binh City, 150 km from Noi Bai International Airport and 145 km from Cat Bi International Airport.
Aurora IP spreads over an area of about 520 hectares, composing of commercial leasing units, technical and infrastructure land, workers' living quarter and IP administration and service lots.
Cat Tuong Group, the investor of Aurora Textile Industrial Park, has prioritized corporate social responsibility and environmental protection practices in the IP's development. Therefore, since the very first days of its establishment, Aurora IP is oriented to be a green and sustainable industrial park.
Aurora IP is surrounded by 17km green fence of casuarina trees and canal, instead of common concrete walls like traditional industrial parks. The industrial park is also adjacent to a mangrove forest to the southwest. In addition, the industrial park has a nursery garden of 5 hectares.
With priorities of renewable energies, electricity supply for the lighting system at the industrial park comes from solar power. The park also encourages investors to install rooftop solar power for their factories.
Aurora IP has developed its river water supply system of 170,000 cbm/day-night , exploiting from Day River instead of groundwater to minimize impacts on the environment. Aurora IP's total capacity of wastewater treatment system is 110,000 cbm/day-night. The advanced wastewater treatment technology enables the industrial park to recycle up to 60% of its wastewater. The waste treatment system shall also be duly treated and monitored to ensure qualified for A-parameter of Vietnamese national technical regulations. Moreover, Cat Tuong Group has conducted research into enhancing the system's capacity and utilize the use of recycled materials from the mud treatment process.
Aurora IP has designed its commercial land into functional areas, which are connected to the ground transportation system, including the North-South National Highway and the Coastal Economic Route. Moreover, the industrial park has wide green aisle along its internal roads to lessen the vibration impacts caused by vehicles on the operations of machinery and equipment inside the factories.
With the orientation of a sustainable and eco-friendly industrial park, Aurora IP is developed with comprehensive amenities such as accommodations for experts and workers, supermarket, banking services, post office, kindergarten and Aurora training center.
Aurora IP is expected to remove bottlenecks in treating wastewater from the dyeing process and other pollutants to the textile industry.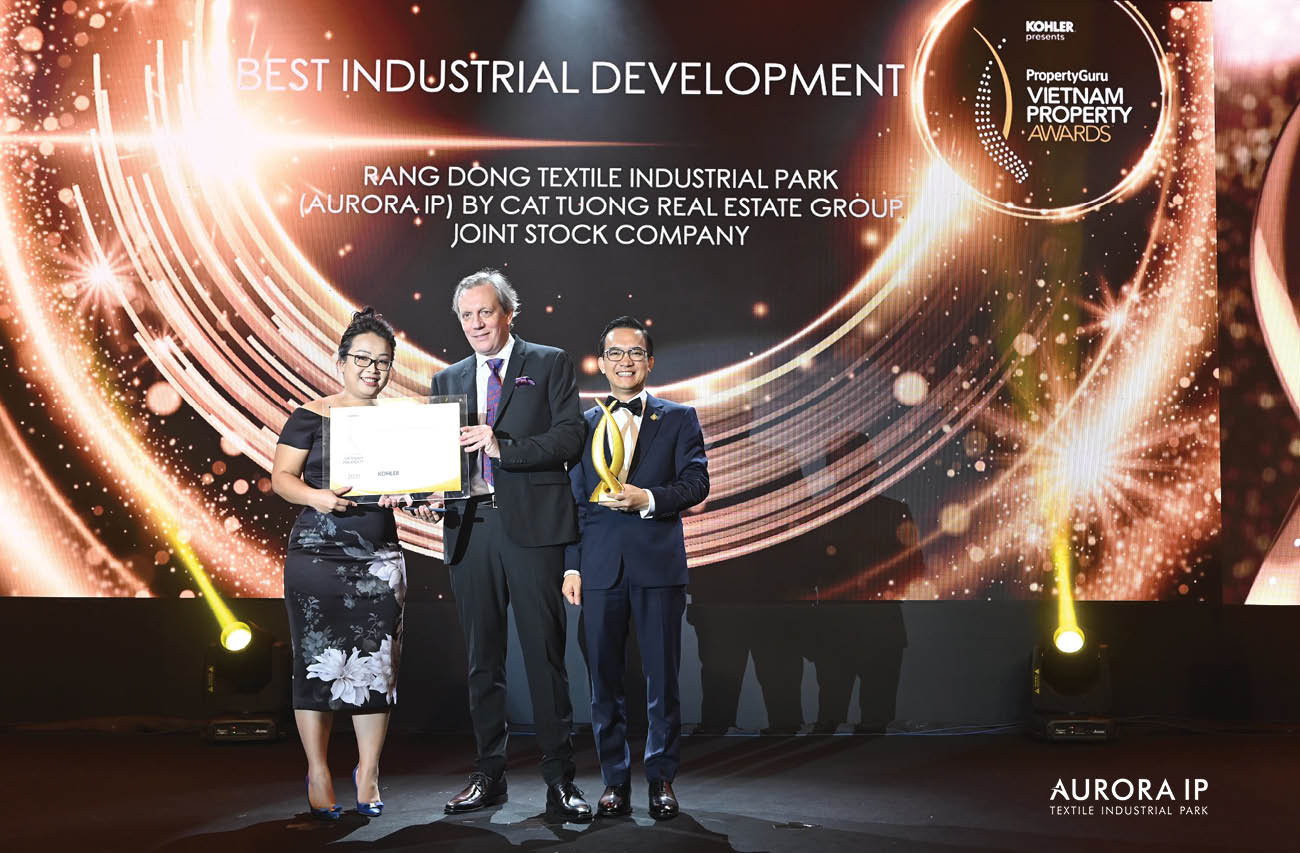 Aurora IP also won two awards at PropertyGuru Vietnam Property Awards 2020.
Recently, regardless of unfavourable economic and social conditions due to COVID-19 pandemic, Aurora IP has successfully closed its deals with two foreign secondary investors and attracted nearly 210 million USD of foreign direct investment for high-tech textile projects. In October, Aurora IP also won two awards at PropertyGuru Vietnam Property Awards 2020, including the Best Industrial Development and the Best Commercial Green Development.
Developed by a prestigious investor with comprehensive infrastructure and advanced technologies, Aurora IP is a promising destination for long-term sustainable development of foreign investors in Vietnam.
The Saigon Times
Khu Công Nghiệp Dệt May Rạng Đông - Aurora Textile Industrial Park
Adress: Lot HC3, N2 Road, Rang Dong Textile Industrial Park, Rang Dong Town, Nghia Hung District, Nam Dinh Province
Tel: (0228) 8856 886 - Hotline: 0839 899 988
Email: info@auroraip.vn
Fanpage: www.facebook.com/RANGDONG.AURORAIP