US President-elect Joe Biden seems more assuring to the European Union, while his trade policy approach towards China may not witness much of a change. His attitude towards India may see reduced aggression compared to his predecessor, writes Dipesh Satapathy
Joe Biden's win in the US presidential elections evoked positive response from domestic industry bodies, as expected, but most trade organisations and experts abroad feel the status quo in the US government's trade policy will more or less continue, albeit with minor alterations.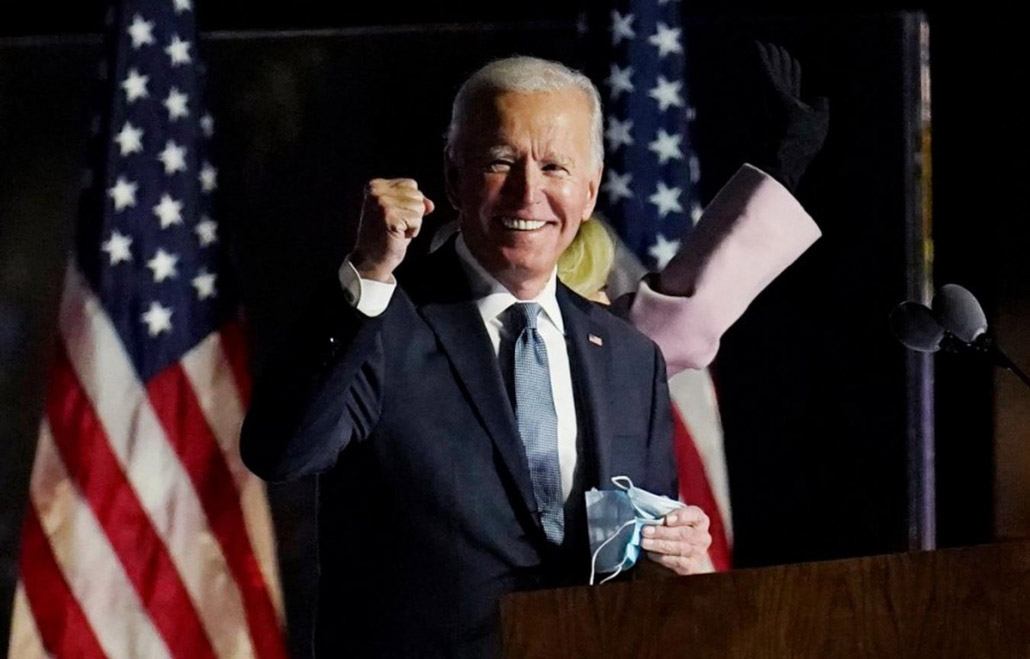 While US National Retail Federation president and chief executive officer (CEO) Matthew Shay pledged to work with the administration and new Congress to mitigate the impact of the COVID-19 pandemic and propel the country's economic recovery, American Apparel & Footwear Association president and CEO Steve Lamar applauded Biden for making COVID-19 management and relief the top priority, and commended his efforts to build a COVID-19 Task Force focused on science and the health. The US Fashion Industry Association reacted saying it believed a fresh approach to trade policy and to US participation in global alliances will support the recovery.
Biden has pitched a $400-billion 'Buy American' plan for the government to buy items manufactured in the United States and has declared his commitment to uniting the economic might of democracies across the globe to counter abusive economic practices.
With the trade war expected to continue, many apparel companies are expected to continue moving their production to other countries, including Vietnam, Bangladesh or India.
The EU
There is ample reason why Biden's win has reassured leaders at the European Union (EU). In contrast to President Donald Trump, who referred to the EU as a rival that was established to take advantage of the United States, Biden has already received congratulatory messages from several top EU leaders. EU leaders and Trump generally did not hit it off, with Trump often complaining that his country was mistreated.
European Council President Charles Michel spoke to Biden over phone and proposed to rebuild a 'strong transatlantic alliance based on common interests and shared values'. He welcomed the strong commitment of Biden to America's allies and his support for European cooperation. The EU should offer Biden "a new transatlantic partnership based on a trade deal and a common approach to China," said Manfred Weber, head of the European People's Party in the European Parliament.
Strong disagreements will, however, continue on composite issues like how global technology firms should be taxed as Europe's quest to crack down on what it perceives as mischievous Internet firms is unlikely to change soon. In early November, the EU initiated formal anti-trust charges against Amazon for allegedly abusing its dominance in online shopping, while opening a second investigation into the company's business practices. But Biden will reportedly seek to end 'artificial trade wars' with Europe.
China
Though Biden's win has offered prospects for some deviation in the course of the US-China trade war, which has not shown any signs of ending, it is widely perceived that the change in US leadership will not alter the overall direction of Washington's China policy and the US government is expected to maintain its current approach towards China to some extent.
Experts said at a virtual conference in October that if corporations think Biden's win will reverse the China tariff situation, they were mistaken as both the political parties see tariffs as a way to put pressure on China.
Ron Sorin, principal at the firm Sorini, Samet & Associates and manager of its business development, consulting, and lobbying practice, said Democrats see tariffs as a way to show they are being tough. He thinks Democrats could even escalate the trade war over China's treatment of Uighurs.
As both political parties in the United States now agree on a hard line on Beijing, any initiative by Biden to ease US tariffs may face significant opposition in the US Congress. Biden is expected to be tougher with China than President Obama and seek more realistic solutions on trade. The intensity of the trade war may subside, but it will definitely continue, most observers feel, as Democrats are strict about everything that violates human rights. China is in the eye of human rights activists over the alleged repression of its Uighur minority.
Biden, as per reports, is expected to consult US allies before he takes any decision on the future of tariffs on Chinese goods.
Chinese experts predicted the outcome could usher in a 'buffering period' for the tense relations, and offer an opportunity for breakthroughs in resuming high-level communication and rebuilding mutual strategic trust between the two countries, official Chinese newspaper 'Global Times' reported.
"I don't think the incoming Biden administration will agree on a full-scale decoupling with China," Da Wei, director of the Center for Strategic and International Security Studies of the University of International Relations in Beijing, told the 'Global Times'.
Despite being 'hawkish' on China, Biden's presidency could lead to a more rational approach to bilateral trade, wrote analysts at Swiss bank Lombard Odier.
Terming President Donald Trump's January trade deal with China as 'hollow', Biden had blamed the tariffs for accelerating the decline in US manufacturing, but he did not commit to either scrapping the pact or withdrawing the tariffs.
"I will use tariffs when they are needed, but the difference between me and Trump is that I will have a strategy—a plan—to use those tariffs to win, not just to fake toughness," Biden told United Steelworkers in May. "I will put values back at the centre of our foreign policy, including how we approach the US-China relationship," he said in a campaign statement in August.
Observers eagerly wait to see whether Biden will seek to rejoin the Comprehensive and Progressive Agreement for Trans-Pacific Partnership, which many experts believed as the best way for the United States to counter Beijing's economic might before Trump withdrew from it as one of his first official actions. Biden supported the deal as vice president earlier, but said during a Democratic primary debate last year that he would insist on renegotiating 'pieces' of the pact.
"Democrats might impose tariffs differently, working in conjunction with allies for instance, or use them to address different matters, such as environmental or human rights issues," AAFA CEO Lamar said. "The big difference between them and Republicans going forward, whether it is the Congress or if we a see a change in the administration, is how they justify the use of the [tariffs]," he was quoted as saying. Democrats might wield them differently, working in conjunction with allies for instance, or use them to address different matters, such as environmental or human rights issues, he added.
India
The United States is the largest apparel trading partner of India, while, for the former, India ranks fifth amongst the readymade garments (RMG) importing destinations. India's RMG export to the United States between January and September this year was $2.27 billion—a 29.89 per cent fall from what it was during the same period last year.
Some experts believe that the problems being faced by India in its trade relations under the Trump regime would continue to a large extent under Biden although the aggression and unpredictability may go down. India is hoping for restoration of benefits for exporters under the Generalised System of Preferences (GSP) scheme ended by Trump or a roll-back in the unilateral application of penal import duties on aluminium and steel, the wait may be long.
India, which has reduced its tax rates substantially, may benefit from Biden's announced policies of taxing corporates at a higher rate than present levels. "If the US under Joe Biden does indeed go ahead with higher tax rates for corporates from 21 per cent to 28 per cent, US multinationals may find investment in India more attractive in view of the recently reduced corporate tax rate," according to Rajendra Nayak, partner and national leader of international corporate tax advisory at EY India.
India may not only attract fresh foreign direct investment (FDI), but US-based global multinationals may also prefer to keep their profits in offshore branches like India, tax experts feel.
The new administration will also have to engage with New Delhi, which is planning to tighten already restrictive e-commerce rules by mandating government access to online companies' source codes and algorithms.
Vietnam
Under Biden, the United States may consider rejoining the Trans-Pacific Partnership (TPP), which the Trump administration withdrew from in 2017. Biden said last year that the United States should renegotiate pieces of this trade pact to tighten up on labor and environment issues; and re-assemble a coalition to counter-balance China's expansion policies. According to Vietnamese economist Nguyen Tri Hieu, if the United States rejoins the partnership, Vietnam will benefit from lower tariffs in major export categories and will see exports to the United States grow even faster.
So if Biden wins, his 'seemingly more peaceful policy with China' might reduce tensions between the world's two largest economies and this could take away the threat of Vietnamese goods being hit with high tariffs under Trump's currency policies, Hieu added.
Bangladesh
While Bangladesh foreign minister AK Abdul Momen expressed hope that the new US leadership will boost its ties the South Asian nation, according to one commentary in a local media outlet, there is no reason to hope for a change in US policy under Biden regarding economic ties with Bangladesh unless the latter addresses US concerns over tariff and non-tariff barriers on their exports. Washington has continued to press Dhaka to drop the unnecessary fumigation requirement for US cotton. For any change under the new government, Bangladesh must take steps for the enforcement and protection of intellectual property rights, stop additional fermentation test of raw cotton, and address concerns regarding human and labour rights, it said.
Africa
Former vice president of Nigeria Atiku Abubakar urged Biden to build on US-Nigeria relations, especially on widening the African Growth and Opportunity Act (AGOA) for integration with the African Continental Free Trade Area (AfCFTA).
Africa has witnessed a marked reduction in US official development assistance and investment since the Obama presidency, noted Brian Tamuka Kagoro, a pan-Africanist, lawyer and development governance expert based in Zimbabwe. "It does not seem as though Biden cares enough about or has given sufficient thought to US-Africa relations. This lack of nuanced policy–if not addressed–may mean a lot less resource investment in Africa or simply more of the same," he told a top television news channel.
Ronak Gopaldas, director at Signal Risk based in South Africa and the United Kingdom, said the threat posed to the AGOA's extension in 2025 will probably subside, as protectionist impulses wane.
Van der Rheede, executive director of Agri South Africa, a South African agricultural industry association, however, feels Biden, who has a soft corner for Africa, will perhaps take a re-look at the AGOA and try to expand it to strengthen trade ties with Africa.
So the world eagerly waits for January 20 with a mix of uncertainty and optimism.
Source texpro.fibre2fashion.com